Drag to explore the materiality
Dove Shimmer 7856
Specific Criteria
Flame retardant
Moisture resistant
Exterior use
Thermoformable
Antibacterial
Decorative
Tags
Bedroom Furniture
Kitchen Furniture
Bathroom Furniture
Retail Furniture
Other Furniture making
Kitchen worktops
Internal cladding/panelling
Garden Design
Outdoor applications
Other Decorative materials
Solid Surface
Grey
Stone
Avonite® is the only product in the solid surface market created via double-belt technology and a thermal cure, ensuring a series of benefits including versatile product width (any size between 686mm and 1524mm is possible), strength, impeccable colour consistency and better manufacturing precision with narrower thickness tolerance.
Avonite® is highly adaptable to a huge range of architectural and design uses across numerous sectors including hospitality, retail, education, government, transportation, public and living spaces, healthcare and commercial workspace.
COLOURFUL
65 colours offer a range of tones and textures. Homogeneous throughout its thickness, the material allows for careful cut-outs or surface sanding to give a lustred sheen.
THERMOFORMABLE
AVONITE® sheets become supple and malleable when exposed to the heat of special ovens and, when sculpted into organic shapes and rounded corners, the material's gentle curves bring comfort and warmth to a variety of interior design schemes.
TRANSLUCENT
From the even and glossy translucence of Ice White to the creation of motifs trimmed in lighter colours, AVONITE® offers beautiful ways to treat light.
MONOLITIC
AVONITE® adhesives are colour matched exactly to ensure seamless joints for the creation of monolithic installations or extra-long counters and bars.
Watch our videos below:
https://www.youtube.com/watch?v=nCwM5vKKdpQ
https://www.youtube.com/watch?v=jkgO_vE20qs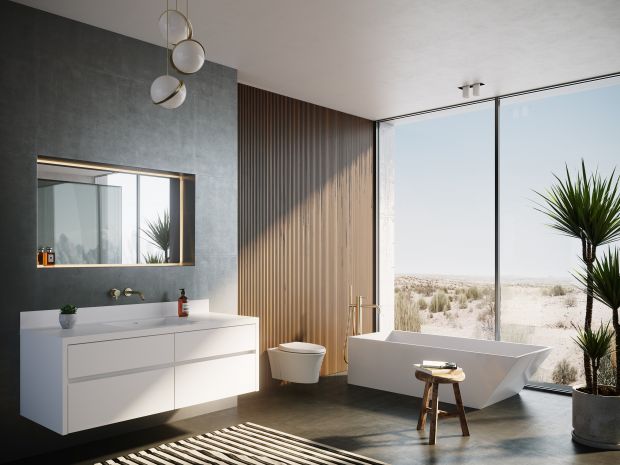 Similar Materials
Here's a selection of similar materials based on this material's characteristics:
Bedroom Furniture
Kitchen Furniture
Bathroom Furniture
Retail Furniture
Other Furniture making
Kitchen worktops
Internal cladding/panelling
Garden Design
Outdoor applications
Other Decorative materials
Solid Surface
Grey
Stone
Product Gallery