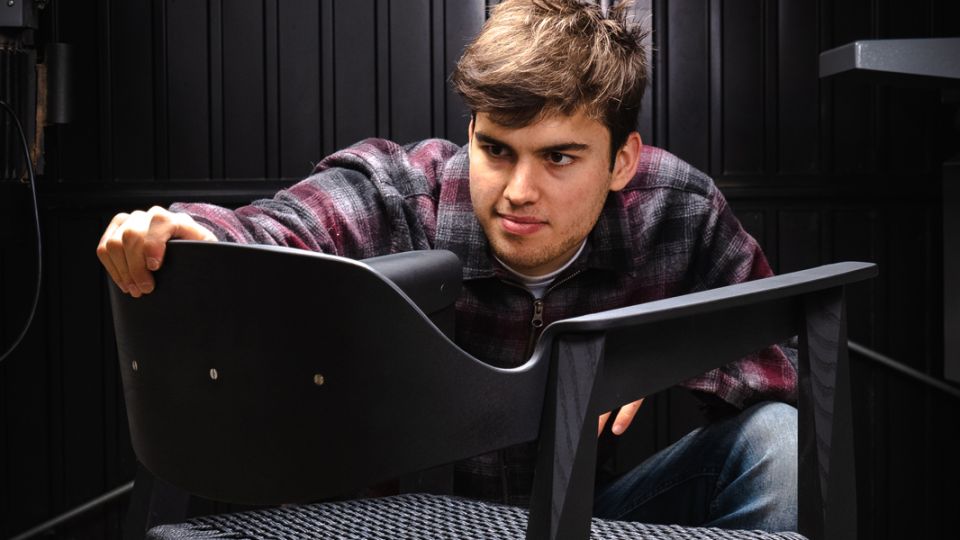 Lathams Brand Ambassador
Furniture influencer teams up with Lathams for special commission
James Latham has commissioned a prominent influencer to design a collection of bespoke furniture using the latest innovative materials.
Sean Evelegh is the first furniture ambassador appointed by Lathams. His brief is to demonstrate how some of the more unusual and exclusive products within the Lathams portfolio can be used creatively in furniture design.
The partnership will see the firm supply a range of materials to Sean to create a series of one-off projects. These include Valchromat, a high performance HDF (effectively a dense MDF) available in a range of colours, WISA Birch, a strong and lightweight plywood, and UPM Grada Ply, a thermoformable plywood.
Moving forward, Sean will also venture into the world of Solid Surfaces. The thermoformable materials look like stone or marble but can be worked and machined with standard woodworking tools. Perfect for furniture making, but currently underused, Sean intends to bring his expansive thinking to the material.
"I love experimenting with different processes and new materials and I'll often create prototypes before progressing to the main piece. Even at a small scale, you get a sense of how the material will shape and perform.
"I'm really interested in curves and how wood can be bent and shaped in interesting ways. When combined with high quality laminates and veneers there is scope for some really beautiful and effective finishes."
Sean explained that the ability to experiment and make things by hand was what attracted him to woodwork in the first place.
He added: "Woodworking is a tactile process, steeped in tradition. There are techniques that were used by ancient civilisations that we still use today. My approach is to take these old crafting techniques and look for a contemporary spin. How can I make something different while maintaining the integrity of the material?
"It's one of the most exciting things about the Lathams partnership – I'm getting to select products from their wide catalogue and I can make anything I want with them."
The journey to influencer
Sean's path into woodworking and furniture making started at secondary school, nine years ago. Thanks in part to an inspirational teacher who allowed him to use the workshop in breaktimes and after school, Sean taught himself to work with various tools, using a range of techniques and materials.
He said: "It began as a hobby, making small items and then working my way up to larger pieces. I started selling things like chopping boards and magazine racks while at school, before talking a teacher into paying me to design and build a scoreboard.
"That was my first proper paid for commission and the moment I realised that I could turn my hobby into a career."
While studying at the prestigious Rycotewood Furniture Centre in Oxford, Sean launched a YouTube channel. His aim was to tell the stories behind the pieces he created and promote his commission business. Four years later he has nearly 30,000 subscribers.
"It's great that I can talk to people all over the world and show them the beauty of woodworking," Sean said. "I find it really fulfilling when I get comments from viewers saying that I've taught them to do something or have inspired them to create their own designs."
The future
Sean has started working with his brother on plans to grow the business. His ambition is to expand his workshop, adding new tools and space to store materials and finished pieces.
He invests most of what he makes from sales back into the business and his next major purchase will be a CNC. This will be used to help him produce batch items.
He said: "Core elements like chair legs can be produced in batches, speeding up the process and delivering consistency. Likewise, I can do small runs of things that sell quickly like tablet stands, rather than making everything on demand.
"I've also got an ambition to do something with flatpack furniture. While the phrase conjures visions of cheap, basic furniture, I want to do something that still meets the highest levels of craftsmanship. Essentially, it's a concept based on creating designer quality furniture that can be easily shipped to customers."
Sean's hope is that by standardising some of what he produces it will free up more time to focus on what he loves the most; the special, one-off commissions.
He added: "My favourite thing is when I get a minimal brief from a customer, with full creative freedom to make whatever I want. Recently, I did a piece of work for a collector of intricate wooden boxes. That was as far as the instruction went. I made a handcrafted box with an intricate mosaic inlaid on the lid. It was so well received that the customer has asked me to make three more. I just need to find the time to get started!"
To find out more about Sean and his work, visit: https://www.seanevelegh.com/
https://www.youtube.com/watch?v=L7P7vKA1q40&feature=emb_logo